Game Description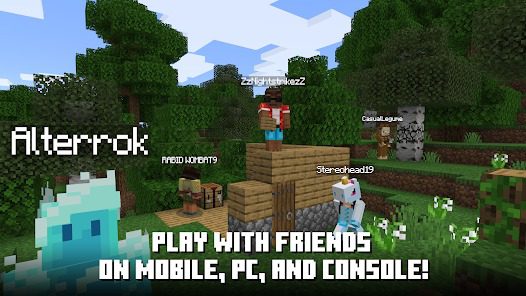 Minecraft is a legendary sandbox game that allows players to explore, build, and survive in a blocky, open-world environment. Developed by Mojang Studios, it has become a cultural phenomenon, known for its creative possibilities and endless adventures.
Game Controls
Familiarize yourself with the controls to navigate the Minecraft world:
PC Controls:

W, A, S, D: Move forward, left, backward, and right.
Spacebar: Jump.
Shift: Crouch and sneak.
Left Mouse Button: Mine or interact with blocks.
Right Mouse Button: Use items or place blocks.
E: Open your inventory.
Tab: View player list (in multiplayer).
1-9: Select items from the hotbar.
Esc: Pause and access game options.

Console and Mobile Controls: Controls may vary depending on the platform, but the core actions remain similar.
How to Play Minecraft
Embark on your Minecraft adventure with these essential steps:
Explore the World
Upon starting, find yourself in a vast, procedurally generated world filled with various biomes, landscapes, and creatures.
Gather Resources
Begin by punching trees to collect wood. Use wood to craft basic tools, such as a wooden pickaxe.
Build and Craft
Construct a shelter to protect yourself from hostile creatures that appear at night. Experiment with crafting recipes to create tools, weapons, and other items.
Mine and Farm
Venture into underground caves and mine for valuable resources like coal, iron, and diamonds. Create a farm to grow crops and breed animals.
Face Challenges
As you explore, you'll encounter challenges like zombies, skeletons, and creepers. Defend yourself with weapons and armor.
Creative Mode
If survival isn't your focus, try Creative Mode, where you have unlimited resources and can build without limitations.
Tips and Tricks
To enhance your Minecraft experience, consider these tips:
Experiment: Minecraft is about creativity. Don't hesitate to experiment with building, redstone contraptions, and different playstyles.
Explore: The world is vast and full of surprises. Explore caves, mineshafts, and dungeons for valuable loot.
Craft Efficiently: Learn crafting recipes to optimize your resource use and create advanced items.
Enchant and Brew: Discover enchantments and potions to enhance your gear and abilities.
Multiplayer: Join multiplayer servers to collaborate with others or participate in minigames.
Game Developer
Minecraft was developed by Mojang Studios, a game development company based in Sweden. Microsoft acquired Mojang in 2014.
Game Platforms
You can enjoy Minecraft on various platforms:
PC/Mac: Play on Windows or macOS.
Console: Available on Xbox, PlayStation, and Nintendo platforms.
Mobile: Play on iOS and Android devices.
VR: Experience Minecraft in virtual reality on compatible headsets.
How to Play Unblocked
To play Minecraft unblocked, follow these steps:
Check School or Work Restrictions: Ensure that your school or workplace doesn't have strict internet restrictions or content filters that might block gaming websites.
Official Website or Purchase: Visit the official Minecraft website or a legitimate retailer to purchase and download the game to your device.
Single-Player: Enjoy the single-player experience without restrictions.
Multiplayer: To access multiplayer servers, ensure your school or workplace's network allows connections to game servers.
In summary, Minecraft offers an open-ended and immersive gaming experience that allows players to build, explore, and survive in a limitless world. Whether you're crafting tools, battling monsters, or building epic structures, Minecraft provides endless opportunities for creativity and adventure. Dive into this iconic sandbox game and create your own virtual world!