Game Description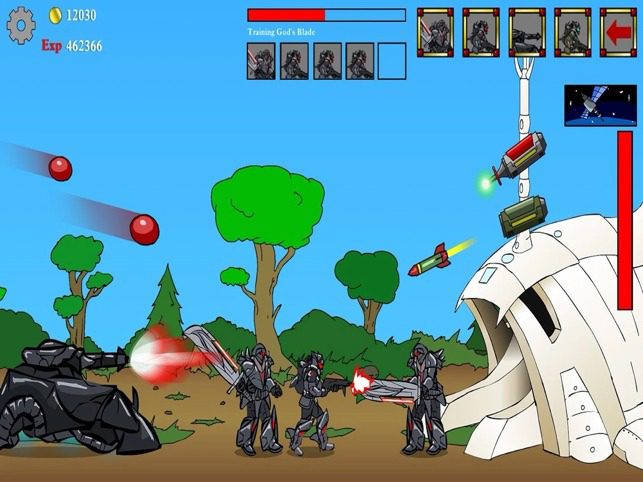 Age of War is an exciting and strategic online game that takes you on an epic journey through time. Developed by Louissi, this game combines elements of strategy, defense, and evolution. Your goal is to lead your civilization from the Stone Age to the modern era while fending off relentless enemy attacks. With each passing age, you'll unlock new units and technologies, making it a battle for survival and progress.
Game Controls
Navigate through history with these simple controls:
Mouse: Use the mouse to interact with menus, select units, and deploy them on the battlefield.
How to Play Age of War
Embark on your historical adventure in Age of War by following these steps:
Choose Your Difficulty
Start by selecting your preferred difficulty level: Easy, Normal, or Hard. This determines the challenge you'll face throughout the game.
Advance Through Ages
You begin in the Stone Age with a basic defense structure. Your primary goal is to advance through different ages, unlocking new units and upgrades.
Gather Resources
To evolve and survive, gather gold by defeating enemy units. Click on the gold icon to collect your earnings.
Deploy Units
Click on the unit icons at the bottom of the screen to deploy troops on the battlefield. Each age offers a unique set of units, from cavemen to modern tanks.
Upgrade Your Base
Invest in upgrading your base to enhance your defense and unlock more advanced units.
Defend Against Attacks
Prepare for enemy waves and fend off their assaults. You'll face a variety of foes throughout history.
Victory Conditions
Your objective is to destroy the enemy base while protecting your own. Victory is achieved by reducing the enemy's base health to zero.
Evolve and Adapt
Continuously evolve through the ages, unlocking stronger units and weapons to withstand more formidable foes.
Tips and Tricks
Master the art of survival and evolution with these tips:
Balanced Unit Deployment: Deploy a mix of units, including ranged and melee, to handle different enemy types effectively.
Upgrade Wisely: Prioritize upgrades that strengthen your base's health and income generation.
Time Your Evolutions: Evolve to the next age strategically, ensuring you have a balanced defense before advancing.
Save for Super Units: Save up gold to deploy powerful super units unique to each age.
Use Special Abilities: Some units have special abilities. Don't forget to use them when the situation calls for it.
Game Developer
Age of War was developed by Louissi, a game developer known for creating engaging and challenging strategy games.
Game Platforms
You can enjoy Age of War on various platforms:
Web Browser: Play the game online directly in your web browser without the need for downloads.
Mobile Devices: Download the game on iOS and Android devices to play on the go.
How to Play Unblocked
To play Age of War unblocked, follow these steps:
Check School or Work Restrictions: Ensure that your school or workplace doesn't have strict internet restrictions or content filters that might block gaming websites.
Visit Official Game Websites: Access the game through the official website or authorized gaming platforms to play it unblocked.
Lead Your Civilization: Once you've accessed the unblocked version, lead your civilization to victory through the ages, defending against relentless enemies and evolving your society.
In summary, Age of War offers an exciting blend of strategy, evolution, and defense as you guide your civilization through different historical eras. Prepare for epic battles, advance through ages, and secure victory in this engaging online game.