Game Description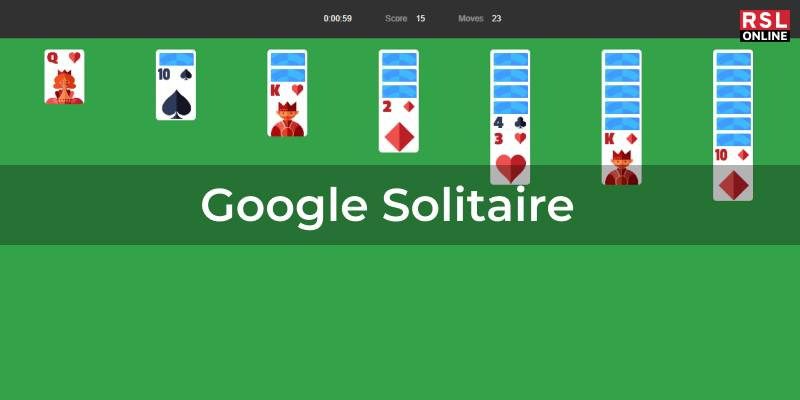 Google Solitaire is a classic and beloved card game that can be played directly within the Google Search engine. Developed as an online version of the traditional solitaire card game, it offers a simple and enjoyable way to pass the time. Whether you're a solitaire enthusiast or a beginner looking to learn, this digital version provides the perfect platform to enjoy a game of solitaire.
Game Controls
Master the art of solitaire with these easy-to-use controls:
Mouse: Click and drag cards to move them between columns and stacks.
Touchscreen Devices: On touch-enabled devices, you can use your finger to tap and drag cards.
How to Play Google Solitaire
Learn the rules and strategies for playing solitaire:
Objective
The goal of solitaire is to arrange all the cards into four foundation piles, one for each suit (hearts, diamonds, clubs, and spades), in ascending order from Ace to King.
Setup
A standard deck of 52 cards is used.
Seven columns of cards are dealt, with the first column containing one card, the second column containing two cards, and so on, up to the seventh column with seven cards. The top card in each column is face-up, while the rest are face-down.
Game Rules
You can move cards between columns in descending order, alternating between red and black suits. For example, you can place a black 5 on a red 6.
Aces are the foundation cards and can be moved to the foundation piles immediately.
Empty columns can be filled with any card or sequence of cards.
You can draw cards from the deck to help you make moves when no more moves are possible from the columns.
To win, you need to move all cards to the foundation piles following the Ace-to-King order for each suit.
Tips and Tricks
To improve your solitaire skills, consider these tips:
Plan Your Moves: Before making a move, think about the consequences and try to plan several moves ahead.
Empty Columns: Keep columns empty when possible, as they can serve as temporary storage for cards you need to access later.
Expose Face-Down Cards: Whenever possible, prioritize uncovering face-down cards to reveal more options.
Build Foundations Early: Try to start building foundation piles as soon as you can.
Undo Moves: Most digital versions of solitaire, including Google Solitaire, allow you to undo moves. Use this feature to your advantage to explore different strategies.
Game Developer
Google Solitaire is not attributed to a specific game developer since it is a part of Google Search's interactive features.
Game Platforms
You can enjoy a game of Google Solitaire on various platforms:
Web Browser: Play directly within the Google Search engine by searching for "solitaire" and clicking on the "Play Solitaire" option.
Mobile Devices: Download the game on iOS and Android devices to play on the go.
How to Play Unblocked
To play Google Solitaire unblocked, follow these steps:
Check Restrictions: Ensure that your school or workplace doesn't have strict internet restrictions or content filters that might block gaming websites.
Use Google Search: Open your web browser and use Google Search to access the game directly. Search for "solitaire," and you should find the "Play Solitaire" option in the search results. Click on it to start playing.
Enjoy the Game: Once you've accessed Google Solitaire, you can enjoy a relaxing game of solitaire without any restrictions.
In summary, Google Solitaire is a convenient and accessible way to enjoy the timeless card game of solitaire. With simple controls and the ability to play it directly within the Google Search engine, it's a perfect choice for quick gaming sessions and moments of relaxation. Whether you're an experienced solitaire player or new to the game, Google Solitaire provides an enjoyable and accessible gaming experience.