Game Description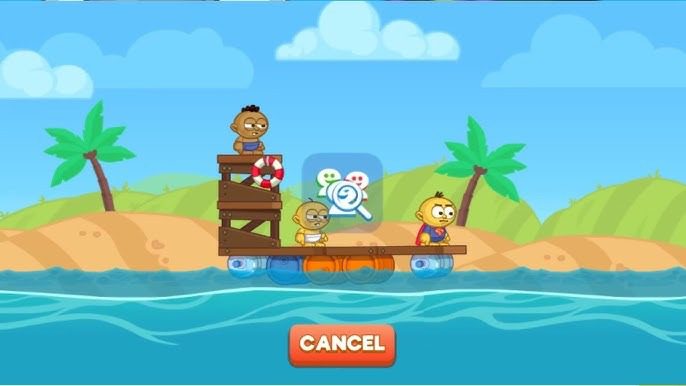 Raft Wars 2 is a delightful and comical online shooting game that serves as the sequel to the popular Raft Wars. Developed by Martijn Kunst, this game offers a unique blend of strategy, aim, and humor. Join Simon and his brother as they defend their treasure against adversaries using a variety of amusing weapons and tactics.
Game Controls
Get ready to embark on your treasure-defending adventure with these intuitive controls:
Aim: Move your mouse cursor to aim.
Shoot: Click the left mouse button to fire your weapon.
Choose Weapon: Scroll your mouse wheel or press the number keys (1-9) to select different weapons.
Pause: Press the "P" key to pause the game and access the menu.
How to Play Raft Wars 2
In Raft Wars 2, you'll follow Simon and his brother as they battle opponents over their treasure. Here's how to navigate this entertaining game:
The Story Begins
Start with Simon and his brother, who discover that their treasure has been stolen by various enemies.
Battle on the Beach
Engage in turn-based battles against opponents on a beach setting. Your goal is to defeat all opponents before they deplete your health.
Defend Your Treasure
Use a variety of weapons, including tennis balls, grenades, and rockets, to defeat your adversaries. Each weapon has its own unique characteristics and uses.
Aim and Fire
Aim your weapon carefully to account for distance and obstacles. The more precise your aim, the better your chances of hitting your target.
Earn Gold
Successfully defeating enemies rewards you with gold. You can use this gold to buy upgrades for your weapons or purchase new ones.
Progress Through Levels
As you advance, you'll face increasingly challenging opponents and situations. Plan your shots wisely to overcome these challenges.
Tips and Tricks
To maximize your success in Raft Wars 2, consider these tips:
Experiment with Weapons: Try out different weapons to understand their behavior and find the best one for each situation.
Upgrade Wisely: Invest in weapon upgrades to increase their damage, accuracy, and other attributes.
Use Obstacles: Use objects on the beach to your advantage. Tennis balls can bounce off walls, potentially hitting hidden opponents.
Plan Your Shots: Take your time to line up your shots and consider the trajectory to hit enemies behind cover.
Manage Gold: Spend your gold wisely, balancing upgrades and new weapons to optimize your arsenal.
Game Developer
Raft Wars 2 was developed by Martijn Kunst, an independent game developer known for creating entertaining and quirky games.
Game Platforms
You can enjoy the treasure-defending fun of Raft Wars 2 on various platforms:
Web Browser: Play the game directly in your web browser, no downloads required.
Mobile Devices: Download the game on iOS and Android devices to play on the go.
How to Play Unblocked
To play Raft Wars 2 unblocked, follow these steps:
Check School or Work Restrictions: Ensure that your school or workplace doesn't have strict internet restrictions or content filters that might block gaming websites.
Visit Official Game Websites: Access the game through reputable and official gaming websites to bypass potential blocks.
Enjoy the Adventure: Once you've unblocked the game, immerse yourself in the hilarious world of Raft Wars 2 and help Simon and his brother protect their treasure from crafty adversaries.
In summary, Raft Wars 2 is a whimsical and engaging shooting game that combines strategy with laughs. Join the adventure, aim your weapons, and defend your treasure against a host of quirky opponents. Upgrade your firepower, overcome challenges, and have a blast in this entertaining online game!