Game Description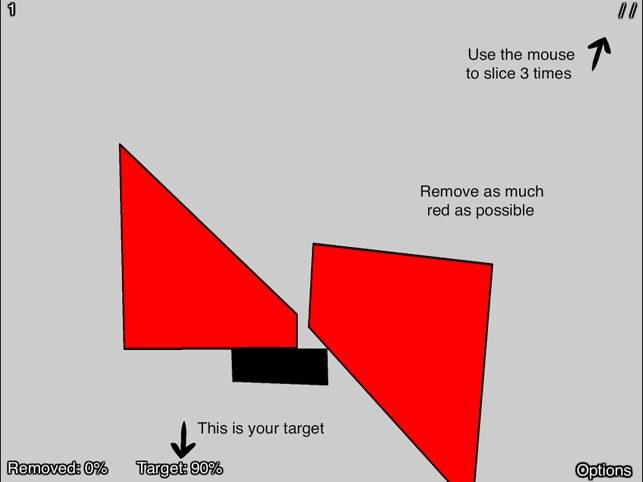 3 Slices is a captivating and brain-teasing physics-based puzzle game that challenges your slicing skills. Developed by Gaz Thomas, this game presents you with various shapes made of blocks, and your task is to slice them into equal parts using only three cuts. It may sound simple, but as you progress through the levels, the puzzles become increasingly complex and require careful planning.
Game Controls
Sharpen your slicing abilities with these controls:
Mouse: Use the mouse to position and control your slicing tool.
How to Play 3 Slices
Become a slicing master in 3 Slices with these steps:
Analyze the Shape
Examine the given shape carefully to identify how it can be divided into equal parts.
Position Your Slicer
Use the mouse to position your slicing tool at the desired location on the shape.
Make Your First Cut
Click the mouse to make your first cut. The shape will split into two parts.
Plan Your Remaining Cuts
Plan your next two cuts strategically to ensure that all resulting pieces are of equal size. Remember, you only have three cuts in total.
Achieve Precision
Aim for precision in your cuts to maximize your score. The closer the pieces are in size, the better your performance.
Progress Through Levels
Continue solving increasingly complex puzzles as you advance through the levels.
Tips and Tricks
Become a slicing expert in 3 Slices with these helpful tips:
Plan Ahead: Take your time to strategize before making each cut. Planning is crucial in solving the more challenging puzzles.
Use All Three Cuts: Don't forget that you have exactly three cuts at your disposal. Utilize them wisely to divide the shape perfectly.
Experiment: Don't be afraid to experiment with different cutting angles and positions to find the most efficient solution.
Watch Your Score: Your score is based on how accurately you divide the shapes. Aim for high precision to earn top scores.
Game Developer
3 Slices was developed by Gaz Thomas, a game developer known for creating a variety of engaging and intellectually stimulating puzzle games.
Game Platforms
You can enjoy 3 Slices on various platforms:
Web Browser: Play the game online directly in your web browser without the need for downloads.
Mobile Devices: Download the game on iOS and Android devices to play on the go.
How to Play Unblocked
To play 3 Slices unblocked, follow these steps:
Check School or Work Restrictions: Ensure that your school or workplace doesn't have strict internet restrictions or content filters that might block gaming websites.
Visit Official Game Websites: Access the game through the official website or authorized gaming platforms to play it unblocked.
Sharpen Your Slicing Skills: Once you're on an unblocked version of the game, challenge yourself to tackle increasingly complex puzzles and enhance your slicing abilities.
In summary, 3 Slices is a captivating puzzle game that will test your spatial reasoning and slicing precision. With a limited number of cuts, you'll need to think strategically to divide shapes into equal parts. Can you master the art of slicing and conquer the challenging puzzles?