Game Description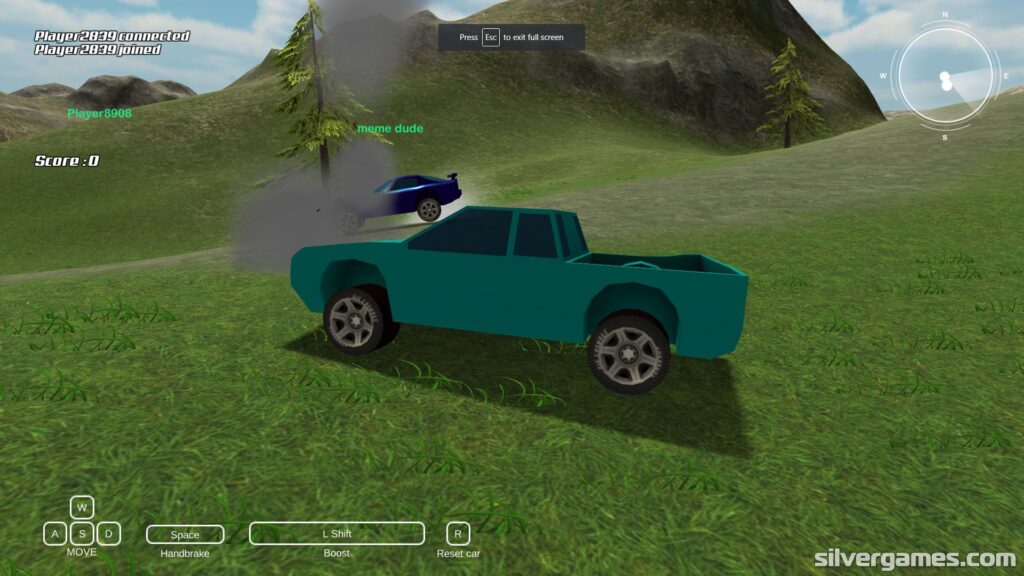 Stunt Simulator Multiplayer is an adrenaline-pumping online game that allows players to unleash their inner daredevils. Developed by Roblox, this multiplayer game lets you perform jaw-dropping stunts, race against friends, and customize your vehicles to become the ultimate stunt performer.
Game Controls
Prepare for high-flying action with these game controls:
W, A, S, D: Use these keys for basic movement and control of your vehicle.
Spacebar: Activate nitro for an extra burst of speed.
C: Change camera angles to get the best view of your stunts.
F: Enter and exit your vehicle.
Shift: Use handbrake for precise control during stunts.
How to Play Stunt Simulator Multiplayer
In Stunt Simulator Multiplayer, you'll engage in thrilling stunt challenges and races against other players. Here's how to jump into the action:
Choose Your Vehicle
Start by selecting your vehicle from a variety of options, including bikes, cars, and more.
Join a Game
Enter a multiplayer lobby or create your own game. You can invite friends or join existing rooms with players from around the world.
Perform Stunts
Head to the stunt park or racing track. Use ramps, obstacles, and terrain to perform incredible stunts. The more daring and creative your stunts, the higher your score.
Race to Victory
Participate in races to test your speed and agility. Compete against others to reach the finish line first and claim victory.
Earn Currency
Successfully completing stunts and races earns you in-game currency, which you can use to upgrade your vehicle or unlock new ones.
Customize Your Ride
Customize your vehicle with different paint jobs, decals, and accessories to make it uniquely yours.
Tips and Tricks
To become a top-notch stunt performer in Stunt Simulator Multiplayer, consider these tips:
Master Vehicle Control: Practice controlling your vehicle to perform precise maneuvers during stunts and races.
Experiment with Stunts: Don't be afraid to experiment with different stunt combinations to earn higher scores.
Team Up: Coordinate with other players in team-based modes to strategize and dominate the competition.
Upgrade Smartly: Invest in vehicle upgrades that enhance performance and suit your playstyle.
Customize Creatively: Personalize your vehicle to stand out and intimidate your opponents.
Game Developer
Stunt Simulator Multiplayer was developed by Roblox, a popular online gaming platform known for its user-generated games and experiences.
Game Platforms
You can enjoy the thrilling stunts and races of Stunt Simulator Multiplayer on the following platforms:
PC: Play the game on your computer by accessing it through the Roblox platform.
Mobile: Download the game on iOS and Android devices to play on the go.
How to Play Unblocked
To play Stunt Simulator Multiplayer unblocked, follow these steps:
Check School or Work Restrictions: Ensure that your school or workplace doesn't have strict internet restrictions or content filters that might block gaming websites.
Roblox Access: Roblox is a well-known platform, and many educational institutions or workplaces allow access to it. Try accessing the game directly through the official Roblox website.
Account Creation: Create a Roblox account if you don't already have one. Some institutions may require you to log in to play games on the platform.
Find the Game: Search for Stunt Simulator Multiplayer within the Roblox platform, join a game, or invite friends to your session.
Stunt Away: Once you're in the game, showcase your stunt skills, race against others, and enjoy the multiplayer action.
In summary, Stunt Simulator Multiplayer offers an exhilarating experience where players can showcase their stunt prowess, race against friends, and customize their vehicles for maximum fun. Whether you're performing gravity-defying tricks or competing in high-speed races, this game brings the thrill of stunts to your screen in a multiplayer setting.