Game Description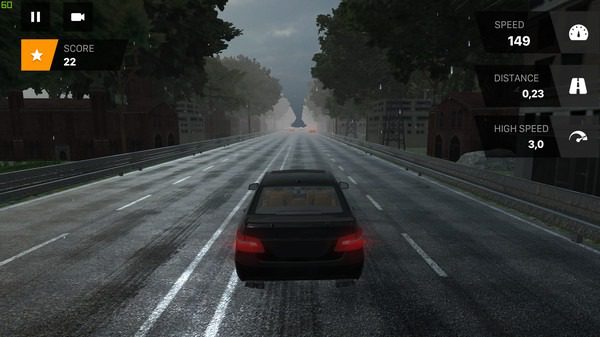 Highway Traffic is an exhilarating and fast-paced racing game that puts you in the driver's seat of powerful vehicles. Developed by T-Bull, this game offers intense traffic challenges and realistic driving physics, delivering an immersive experience for racing enthusiasts.
Game Controls
Get a grip on your vehicle with these standard game controls:
Acceleration: Press the gas pedal or the up arrow key to accelerate your vehicle.
Braking/Reverse: Use the brake pedal or the down arrow key to slow down or reverse.
Steering: Tilt your device left or right or use the left and right arrow keys to steer your vehicle.
Nitro Boost: Activate nitro for a burst of speed by tapping the nitro button or pressing the spacebar.
How to Play Highway Traffic
Jump into the race and follow these guidelines to succeed in Highway Traffic:
Choose Your Vehicle
Start by selecting your preferred vehicle from a range of options, each with its unique attributes.
Navigate the Traffic
Hit the road and maneuver your vehicle through dense traffic, avoiding collisions with other cars and obstacles.
Collect Coins
As you drive, collect coins scattered across the highway. These coins can be used to upgrade your vehicle or purchase new ones.
Activate Nitro
Utilize nitro boosts strategically to accelerate past slower vehicles and gain an advantage.
Complete Objectives
Accomplish various in-game objectives and challenges to earn rewards and progress through the game.
Achieve High Scores
Aim to achieve high scores by covering maximum distance and collecting coins.
Tips and Tricks
To conquer the highway and outpace your rivals, consider these tips:
Master Nitro: Save your nitro boosts for crucial moments, such as overtaking multiple vehicles in a row or escaping a tight spot.
Upgrade Wisely: Spend your collected coins on vehicle upgrades like speed, handling, and nitro duration to enhance your performance.
Keep an Eye Ahead: Always be vigilant and anticipate traffic movement to avoid sudden crashes.
Stay Calm: Maintain composure during intense traffic situations. Panicking can lead to accidents.
Complete Missions: Fulfill missions and objectives for extra rewards, including more coins.
Game Developer
Highway Traffic was developed by T-Bull, a game development studio known for creating exciting and challenging racing games.
Game Platforms
You can enjoy the thrill of Highway Traffic on various platforms:
Mobile: Play on iOS and Android devices by downloading the game from your app store.
How to Play Unblocked
To enjoy Highway Traffic unblocked, follow these steps:
Check Restrictions: Ensure that your school, workplace, or network doesn't have strict internet restrictions that block access to gaming websites or apps.
Mobile Devices: If you're using a mobile device, download the game from your device's official app store (App Store for iOS or Google Play for Android).
Desktop: If you wish to play on a desktop computer, consider using a personal device and a non-restricted internet connection.
In summary, Highway Traffic offers an adrenaline-pumping racing experience that challenges your reflexes and driving skills. Whether you're weaving through traffic, collecting coins, or activating nitro boosts, this game provides non-stop action on the virtual highway. Take control of the wheel, conquer the road, and race to the top of the leaderboards!