Game Description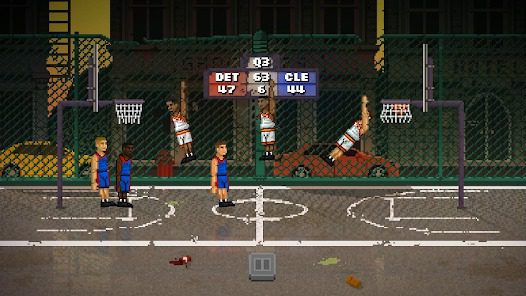 Bouncy Basketball is an exciting and fast-paced basketball game that offers a unique and enjoyable gaming experience. Developed by Dreamon Studios, this game combines the fun of basketball with quirky physics and bouncy characters, resulting in hours of entertaining gameplay.
Game Controls
Take control of your basketball team with these intuitive controls:
Arrow Keys: Move your player.
X Key: Shoot or jump.
Z Key: Steal the ball or block shots.
How to Play
Get ready to hit the court and show off your basketball skills in Bouncy Basketball:
Game Modes
Quick Match: Jump into a quick one-on-one basketball game against an AI opponent.
Tournament: Participate in tournaments and aim to become the champion by defeating multiple opponents.
Career: Create and customize your player, then embark on a career in the world of bouncy basketball.
Scoring
Score points by shooting the ball into your opponent's hoop while preventing them from doing the same in yours.
Utilize your player's unique abilities and traits to gain an advantage on the court.
Power-Ups
Collect power-ups that can provide temporary boosts or advantages during matches.
Upgrades
Earn coins and use them to upgrade your player's attributes, improving their performance.
Tips and Tricks
Here are some tips to help you become a bouncy basketball pro:
Master the Bounce: The physics in this game are unique. Practice using the bounce mechanic to your advantage when shooting.
Use Power-Ups Wisely: Timing is crucial when activating power-ups. Save them for moments when they can turn the tide of a match.
Upgrade Strategically: Focus on upgrading attributes that complement your playstyle.
Defend Smartly: Don't just focus on offense. Play solid defense to prevent your opponent from scoring.
Game Developer
Bouncy Basketball was developed by Dreamon Studios, known for creating fun and innovative mobile games.
Game Platforms
iOS: Available for iOS devices on the App Store.
Android: Available for Android devices on Google Play.
How to Play Unblocked
To play Bouncy Basketball unblocked, follow these steps:
Check School or Work Restrictions: Ensure that your school or workplace doesn't have strict internet restrictions or content filters that might block gaming websites.
Mobile App: Download the mobile app version of Bouncy Basketball from the official app store on your device. This way, you can enjoy the game without any online restrictions.
In summary, Bouncy Basketball is a fun and quirky take on the sport of basketball. Whether you're playing a quick match or embarking on a career, the game's unique physics and enjoyable gameplay make it a slam dunk for basketball enthusiasts.