Game Description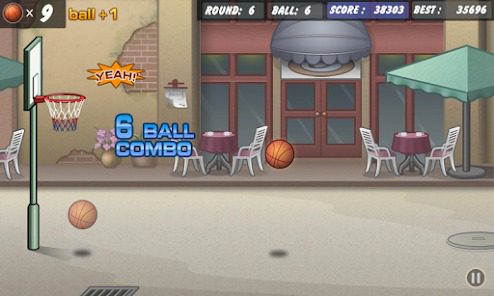 Basketball Shooter is an addictive and skill-based basketball game that challenges your shooting precision and accuracy. Developed by QkyGames, this game offers a straightforward yet engaging basketball experience where your goal is to make as many shots as possible within a limited time frame.
Game Controls
Become a sharpshooter with these controls:
Mouse: Aim
Left Mouse Button: Shoot the basketball
How to Play Basketball Shooter
Sink those perfect shots in Basketball Shooter by following these steps:
Aim for the Hoop
Use your mouse to aim the basketball in the direction of the hoop.
Time Your Shot
Click the left mouse button to release the ball and attempt to score a basket.
Score Points
Successfully landing the ball in the hoop earns you points. Try to score as many baskets as you can within the time limit.
Beat the Clock
Keep an eye on the timer. The game becomes progressively challenging as the time ticks away.
Achieve High Scores
Challenge yourself to achieve high scores by making consecutive shots and mastering your aim.
Tips and Tricks
Become a basketball shooting pro with these helpful tips:
Precision Matters: Focus on accuracy rather than speed. Take your time to aim precisely.
Consistency is Key: Develop a consistent shooting technique to improve your shot success rate.
Master Timing: Learn the timing required for different distances to increase your scoring chances.
Challenge Yourself: Set personal high score goals and compete with friends to see who can achieve the highest score.
Game Developer
Basketball Shooter was developed by QkyGames, a game developer known for creating a wide range of fun and addictive casual games.
Game Platforms
You can enjoy Basketball Shooter on various platforms:
Web Browser: Play the game directly in your web browser without the need for downloads.
Mobile Devices: Download the game on iOS and Android devices to play on the go.
How to Play Unblocked
To play Basketball Shooter unblocked, follow these steps:
Check School or Work Restrictions: Make sure your school or workplace doesn't have strict internet restrictions or content filters that may block gaming websites.
Visit Official Game Websites: Access the game through the official website or authorized gaming platforms to play it unblocked.
Sharpen Your Skills: Once you're on an unblocked version of the game, practice your shooting skills and aim for the highest score possible.
In summary, Basketball Shooter offers a quick and enjoyable basketball shooting experience that's perfect for casual gaming sessions. Challenge yourself to beat your own high score and become a master of precision shooting as you aim for the perfect shot in this addictive basketball game.