Game Description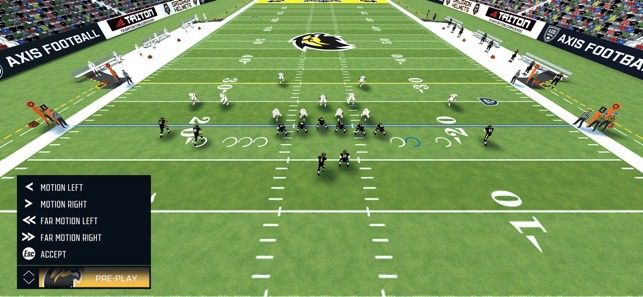 Axis Football League is a detailed and immersive American football simulation game that offers players the opportunity to manage and coach their own football team. Developed by Axis Games, this game provides an in-depth experience for football enthusiasts and strategy lovers alike.
Game Controls
Take command of your football team with these controls:
Arrow Keys: Navigate menus, control players, and execute actions during gameplay.
Spacebar: Snap the ball (during offensive plays) or tackle opponents (during defensive plays).
A Key: Sprint (during gameplay).
S Key: Spin (during gameplay).
D Key: Dive (during gameplay).
W Key: Speed burst (during gameplay).
P Key: Pause the game.
How to Play Axis Football League
Become the head coach and lead your team to victory in Axis Football League:
Team Selection
Start by selecting your team from a list of fictional franchises, each with its unique attributes.
Season Mode
Dive into Season Mode, where you'll compete in a series of matches with the goal of winning the championship.
Playbook
Develop a playbook with offensive and defensive strategies tailored to your team's strengths.
Game Strategies
During matches, call plays and make real-time decisions to outsmart your opponent.
Player Management
Manage your team's roster, making changes to optimize performance, and handle player injuries.
Upgrades
Earn credits from victories and invest in stadium upgrades and player contracts to improve your team's overall performance.
Tips and Tricks
Master the art of American football with these strategies:
Balanced Play Calling: Mix up your offensive plays to keep the defense guessing. Don't rely solely on passing or rushing.
Defensive Adjustments: Customize your defense to counter your opponent's strengths and exploit their weaknesses.
Player Substitutions: Keep an eye on player fatigue and make timely substitutions to maintain optimal performance.
Special Teams: Don't neglect special teams. Effective punting and field goal attempts can be game-changers.
Game Developer
Axis Football League was developed by Axis Games, a studio known for creating sports simulation games.
Game Platforms
Enjoy Axis Football League on various platforms:
Web Browser: Play the game online directly in your web browser.
Mobile Devices: Download the game on iOS and Android devices to play on the go.
How to Play Unblocked
To play Axis Football League unblocked, follow these steps:
Check School or Work Restrictions: Ensure that your school or workplace doesn't have strict internet restrictions or content filters that might block gaming websites.
Official Game Websites: Visit the official website or gaming platforms associated with Axis Football League to access the unblocked version of the game.
Internet Connection: Make sure you have a stable internet connection to enjoy uninterrupted football management and gameplay.
In summary, Axis Football League provides a comprehensive football simulation experience, allowing players to step into the shoes of a coach and lead their team to gridiron glory. With detailed gameplay, strategic depth, and realistic football action, it's a must-play for fans of the sport.