Game Description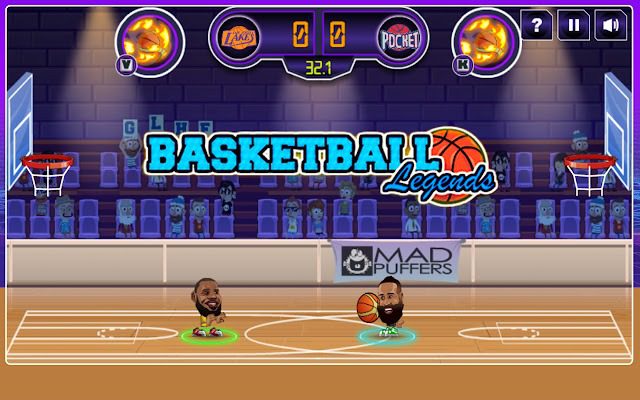 Basketball Legends is an action-packed basketball game that brings legendary players to the court. Developed by MadPuffers, this game allows you to showcase your basketball skills and compete against iconic basketball figures in thrilling matches.
Game Controls
Take control of the game with these simple controls:
Player 1:

Move: WASD keys
Attack/Shoot: B key
Steal: V key
Super Shot: S key
Dash: D key

Player 2:

Move: Arrow keys
Attack/Shoot: L key
Steal: K key
Super Shot: Down arrow
Dash: Right arrow
How to Play Basketball Legends
Get ready to hit the court and show off your basketball prowess with these instructions:
Choose Your Player
Start by selecting your favorite basketball legend to represent you in the game.
Tournament or Quick Match
Decide whether you want to engage in a quick match or a tournament. Tournaments consist of multiple matches against different opponents.
Score Points
The main objective is to outscore your opponent. Shoot the basketball into your opponent's hoop while preventing them from doing the same to yours.
Special Moves
Each player has a unique super shot that can be activated by pressing the designated button. Use it strategically to gain an advantage.
Win the Game
The player or team with the most points at the end of the match or tournament emerges victorious.
Tips and Tricks
Elevate your game in Basketball Legends with these helpful tips:
Learn Player Abilities: Familiarize yourself with your chosen player's abilities and stats to use them effectively.
Steal the Ball: Master the art of stealing the ball from your opponent to gain possession and score.
Block Shots: Timing is crucial. Try to block your opponent's shots to prevent them from scoring.
Utilize Super Shots: Use your player's unique super shot wisely to turn the game in your favor.
Game Developer
Basketball Legends was developed by MadPuffers, a game developer known for creating sports-themed games.
Game Platforms
You can enjoy Basketball Legends on various platforms:
Web Browser: Play the game online directly in your web browser without any downloads.
Mobile Devices: Download the game on iOS and Android devices to play on the go.
How to Play Unblocked
To play Basketball Legends unblocked, follow these steps:
Check School or Work Restrictions: Ensure that your school or workplace doesn't have strict internet restrictions or content filters that might block gaming websites.
Visit Official Game Websites: Go to the official website or gaming platforms associated with Basketball Legends to access the unblocked version of the game.
Internet Connection: Make sure you have a stable internet connection to enjoy uninterrupted basketball action.
Compete Uninterrupted: Once you've accessed the unblocked version, challenge your friends or compete against AI opponents to become a basketball legend in your own right.
In summary, Basketball Legends lets you step onto the virtual court with some of the greatest basketball players of all time. Whether you're playing solo or against friends, it's an exciting basketball experience that captures the essence of the sport. So, dribble, shoot, and score your way to victory!