Game Description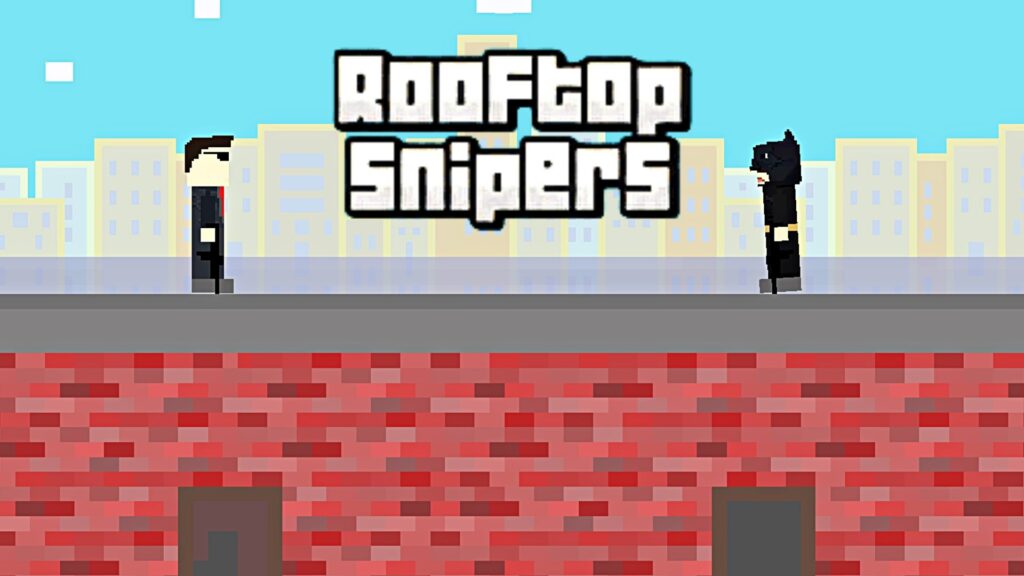 Rooftop Snipers catapults two players onto precarious rooftops in a fast-paced and uproarious shooting game. The aim is simple: eliminate your opponent either by shooting them or sending them tumbling off the roof. With its straightforward yet addictive gameplay and comical physics, Rooftop Snipers is an ideal choice for quick gaming sessions and delightful duels with friends.
Game Controls
To ascend as a rooftop sharpshooter, it's imperative to master the game controls:
Player 1:
E: Take aim and shoot
W: Execute gravity-defying jumps
Player 2:
O: Precisely fire your weapon
I: Perform agile leaps to avoid incoming fire
How to Play
Here's your comprehensive guide to embarking on thrilling rooftop duels with Rooftop Snipers:
Access the Game: Discover Rooftop Snipers on various reputable online gaming platforms. Ensure you choose a trusted source for an enjoyable gaming experience.
Choose Your Character: Commence your rooftop escapade by selecting a character. The game offers a plethora of whimsical and unconventional choices, promising a unique experience.
Select a Level: Handpick a rooftop or level for your duel. Each location boasts distinctive hazards and characteristics, ensuring dynamic gameplay.
Challenge a Friend: Rooftop Snipers is designed for two players. Challenge a friend or take on an online opponent for heart-pounding rooftop combat.
Shooting and Jumping: Employ the designated keys for precision shooting and nimble jumping to evade enemy fire. Bear in mind that bullet trajectories are influenced by gravity, introducing an added layer of complexity.
Tactical Mastery: Beyond shooting, embrace tactical strategies. Experiment with shoving your adversary off the rooftop or employ clever tactics to dodge their shots.
Best of Three: The game typically follows a best-of-three format, with the first player to secure two rounds declared the victor.
Tips and Tricks
For those aspiring to achieve rooftop sniping supremacy, these tips and tricks are your pathway to success:
Master Timing: Success hinges on your ability to master the timing of your shots and jumps. A well-timed shot or leap can lead to triumphant moments.
Environmental Tactics: Some rooftops feature elements that can be used strategically. Leveraging obstacles for cover can provide a crucial advantage.
Practice for Perfection: As the saying goes, practice makes perfect. The more you immerse yourself in the game, the sharper your prediction of your opponent's movements and your aiming accuracy will become.
Game Developer
Rooftop Snipers owes its existence to the ingenious mind of Michael Eichler, a game developer renowned for crafting a diverse array of entertaining and humorous online games.
Game Platforms
Download the game on iOS and Android devices to play on the go.
How to Play Unblocked
Accessing Rooftop Snipers unblocked is a breeze. Simply search for unblocked versions of the game on reputable online gaming platforms. You can often find these versions available, granting you unbridled access to rooftop duels without any restrictions. Enjoy the game to the fullest with unblocked access!