Game Description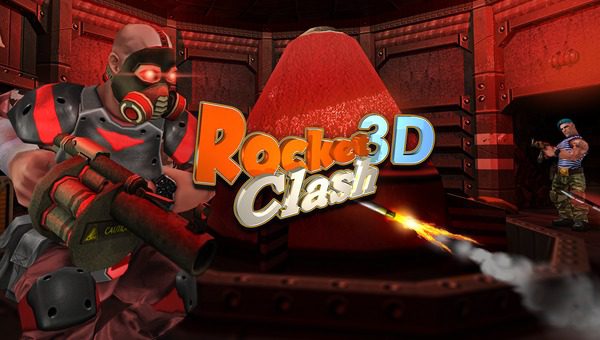 Rocket Clash 3D presents an adrenaline-pumping online multiplayer shooting game, set in a fast-paced and explosive 3D environment. Engage in thrilling battles that test your skills and strategic thinking. This game promises intense rocket battles, dynamic gameplay, and fierce competition.
Game Controls
Mastery of the game controls is essential in Rocket Clash 3D to dominate the battlefield:
Movement: Use the W, A, S, and D keys or arrow keys to navigate your character.
Aiming: Precisely target your adversaries by moving your mouse.
Firing: Eliminate your opponents by clicking the left mouse button to fire your weapon.
Reloading: Swiftly reload your firearm by pressing the R key.
Jumping: Execute agile jumps and evasive maneuvers using the spacebar.
Crouching: Seek cover and evade enemy fire by pressing the Ctrl key.
How to Play Rocket Clash 3D
Jumping into the action-packed world of Rocket Clash 3D is straightforward:
Join a Game: Launch the game and choose a match to join or create your room to play with friends.
Choose a Team: Opt for a side by joining the Red or Blue team, an essential step for effective teamwork.
Select Your Loadout: Before the battle begins, personalize your loadout by choosing your weapons and equipment.
Engage in Battle: Once on the battlefield, coordinate with your team to defeat the opposing side. Achieving objectives and eliminating adversaries will earn your team points.
Objective-Based Play: Each level comes with specific objectives, such as capturing points or securing briefcases. Focus on these objectives to gain an advantage.
Teamwork Is Key: Effective communication and cooperation with your team are vital for victory. Coordinate attacks and provide cover for your teammates.
Tips and Tricks
To become a formidable force in Rocket Clash 3D, consider these strategies:
Aim for the Head: Focus on headshots to deal extra damage and secure quicker kills.
Map Awareness: Familiarize yourself with the map layout to anticipate enemy movements and find advantageous positions.
Utilize Cover: Stay behind cover to minimize exposure to enemy fire. Pop out to take shots and return to safety.
Team Coordination: Effective communication and coordination with your team are essential for planning strategies and executing well-coordinated attacks.
Ammo Management: Keep a vigilant eye on your ammunition count and reload when safe to avoid running out of bullets at a crucial moment.
Game Developer
Rocket Clash 3D is developed by a dedicated team of game developers specializing in crafting immersive online multiplayer experiences.
Game Platforms
Download the game on iOS and Android devices to play on the go.